Midjourney, a research laboratory led by David Holz, co-founder of Leap Motion, has developed an AI program that utilizes Stable Diffusion technology to generate images from text descriptions, similar to OpenAI's DALL-E. Midjourney's open beta phase began on July 12, 2022, and the team has already achieved profitability, according to Holz. To create images, users can use specific commands to interact with Midjourney's Discord bot.
Let's understand How to use Midjourney to generate AI Art and Images. With the rise of AI-generated artwork, many users are actively seeking out ways to create the perfect prompts to lead AIs to create the ideal images, or even intentionally create bizarre ones.
Steps of generating AI Images using Midjourney
STEP 1: Join Discord
Before using Midjourney, it is essential to have a Discord account. Midjourney operates solely on Discord, so without an account, you won't be able to access its features. If you don't have a Discord account yet, you can sign up for free.
Step 2: Visit Midjourney Official Website
To begin using Midjourney, head over to Midjourney website and click the "Join the Beta" button. This will redirect you to Discord's registration page where you can sign up for the service. After registering, you can access the web-based version of Discord or download the desktop app.
Midjourney offers a limited number of free images. If you wish to create an unlimited number of images, you will need to pay a monthly fee. The pricing structure for Midjourney is $8 for 200 images and $24 per month for unlimited access.
If you have received a Discord invite to Midjourney, you can accept it by clicking on the link provided in the invitation. Once you have done that, you will be redirected to the Midjourney Discord server.
To continue to Discord, you can click the "Continue to Discord" button on the Midjourney website. This will redirect you to Discord's login page where you can enter your login credentials to access the Midjourney server. From there, you can start using Midjourney to generate AI images.
Step 3: Join A Channel
Go to the left sidebar of the official Midjourney server and select the "newbies-#" channel.
Step 4: Use /imagine Command
To generate an AI image on Midjourney, you can either type "/imagine prompt:" in the conversation field or select the "/imagine" command from the slash commands pop-up. Once you've done that, enter a description of the image you want to create in the prompt field. To send your message, click the "return" button.
Related:
Step 5: Process
After submitting your image prompt, you will need to wait for Midjourney's AI to generate the images based on your description. The Midjourney bot typically takes around a minute to generate four different image options for you to choose from.
Step 6: Review / Upscale or Create New Variations
Once Midjourney has generated the image options, you'll see a section below them with U and V buttons labeled 1 through 4. Each number corresponds to one of the four images that Midjourney has created. By selecting the U button, you can upscale that particular image to a larger, more defined version. Choosing the V button will create a completely new image based on the current image that you've selected.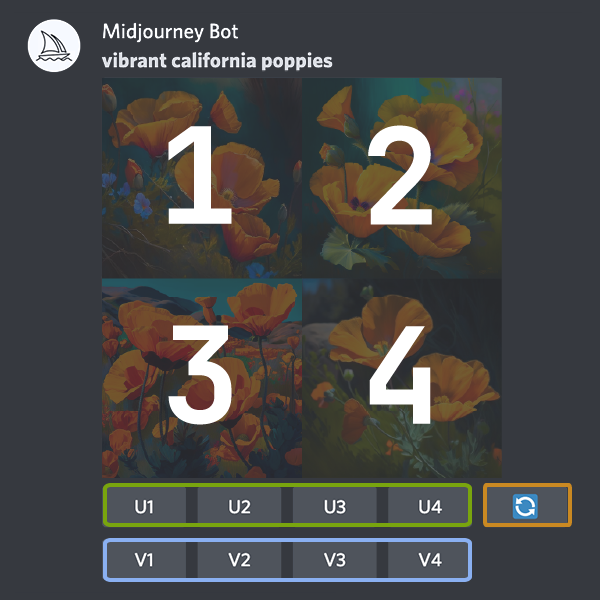 If you're not satisfied with the options, you can click the refresh button to generate a new set of images. It's important to note that each time you make a selection or refresh the images, it will count towards your available free prompts. So be sure to use them wisely and only proceed if you're certain that you want to create that particular image.
Once you've chosen the image you want to create, you can DM it directly to yourself by selecting the envelope emoji and adding it to your chat. This will allow you to save and download the image at any time, so you can use it however you like.
So that's all about Midjourney AI image generator tool. Hope this article will be helpful for you to find the answer of How to use Midjourney to generate AI Art and Images.