Introduction: Buying Second Hand Books
Purchasing brand new books on the internet is a simple process; we just go to Amazon and place our orders there. You like reading quite a lot, so you're looking forward to getting through even more books. At the same time, monetary value cannot be discounted. However, you should give serious thought to the possibility of purchasing used books rather than new ones. To begin, they are almost always less expensive. In addition to that, it has positive effects for the natural world. I will discuss here the Top 5 Websites to Buy Second Hand Books Online which can fulfill your need of reading books at less cost.
How to Get Second Hand Books Online
When you can't see photos and have to worry about things like quality, it makes it a bit more difficult to locate what you're looking for when you search for it online. Therefore, in this article, you will get a guide to five of the greatest websites that you can use to source your used books, as well as instructions on how to guarantee that you receive precisely what you want.
Regular readers may save a substantial amount of money by shopping online for books that are in good condition but have been previously owned and sold. Additionally, as a direct result of the expansion of the internet, it is now much simpler to acquire used books through the digital medium.
In recent years, there has been a proliferation of websites that offer second-hand books, periodicals, and publications that are in fine shape for a price that is a fraction of what it would have cost to publish them.
Also Read: Top Must Read Horror Books by Indian Authors
Top 5 Websites to Buy Second Hand Books Online
Bookchor is one of the most well-known websites on the internet for purchasing pre-owned books online. Bookchor provides a diverse selection of books, including both fiction and non-fiction titles, in addition to academic publications. Bookchor.com offers the finest discounts and quickest shipping times for online book purchases made in India. Free delivery to your home. Fast Shipping in India. Over one million different book titles.
Website: https://www.bookchor.com/
Books are the finest way to get information, and knowledge is invaluable. You may acquire knowledge through reading books. People feel that reading gives them more agency, provides them with educational opportunities, and enables them to experience life from the perspective of another person for at least a little period of time. Books are not only a valuable tool for making improvements in one's life, but they also provide readers with opportunities to temporarily disappear into the fantastical realms inhabited by the book's fascinating protagonists and antagonists.
Website: https://www.99bookscart.com/
Also Read: How to Make Career in Writing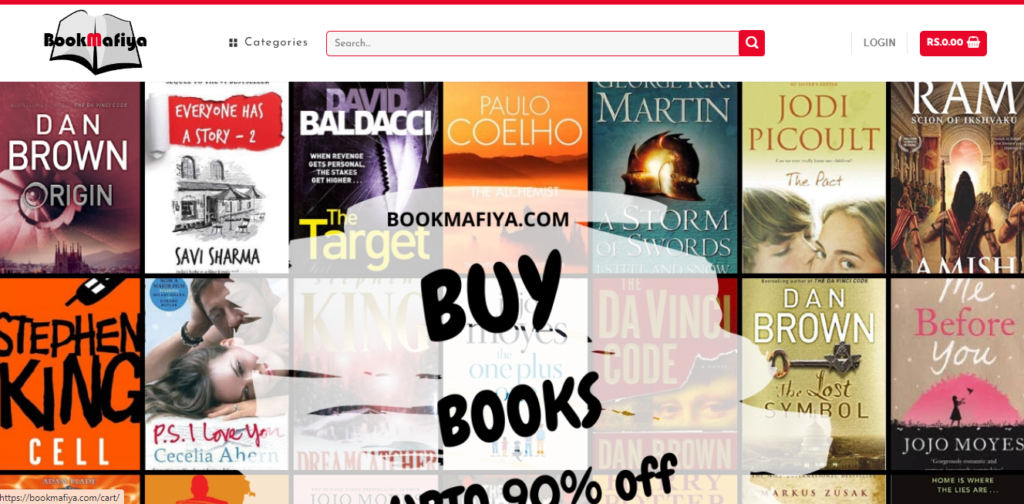 BookMafiya is an online shop that provides customers with the opportunity to purchase used, new, and almost new copies of books at extremely reasonable prices. Explore a wide range of literary subgenres, including fiction, romance, children's literature, academic textbooks, and many more. BookMafiya ensures that clients have a simple and hassle-free experience while purchasing books. Before being sent out to buyers, each book was subjected to and successfully passed a quality test. Users also have the ability to sell their own books via them by utilising the "Become a Seller" option that is located in the header.
Website: https://bookmafiya.com/
When Bookish Santa was first conceived, the idea was to ensure that nobody was ever left out of that experience. They want you to discover new realms that you can escape into and new ideas that you may pursue. They want to assist you in finding the perfect book, but more than that, they want to serve as your very own personal Sunday Book Market. They provide you with a variety of collections to go through, including preowned, vintage, and, of course, brand new copies, all of which are priced competitively enough to entice you to continue shopping there.
Website: https://www.bookishsanta.com/
Another prominent online destination for the acquisition of pre-owned books is the website known as Best Use of Books. They offer a large variety of genres, and they also include some books that have been top sellers, which you may be interested in reading. You may find out more by going to their website, where you can also begin purchasing books at the lowest possible prices.
Website: https://bestofusedbooks.com/
Conclusion
Therefore, now that I have provided you with the resources to look for how some wonderful books may be found online, it is time for you to reawaken your love for reading books. Reading books that have been previously owned may help you save money while also being beneficial to the natural world. You may acquire a copy of the book in paperback for the same price as the digital edition! That's really incredible, isn't it?