Introduction – Best Books on How to Sell
How do I sell? Is the concern that practically all aspiring business owners and salespeople have. Selling is the key element, and the sales department is crucial to every business. Each of us must begin somewhere and in some way. Some "salespeople" are created, while others are born with the trait. Top 5 Best Books on How to Sell are included in this article to assist you in learning more about sales and its management. These books will undoubtedly provide you with the greatest lessons to help you develop, whether you are a salesperson or the manager of your sales staff.
Why reading is important for salespeople?
There is always space for improvement, regardless of whether your sales force is converting leads at a record rate or having trouble meeting objectives. New perspectives and insights may be helpful for team members at all levels, from directors and managers to consultants and reps. The best sales books should be your top priority to read if you're in sales and this is your first year on the job. The methods and strategies of some of the brightest minds in sales are accessible to you thanks to superb sales books. Even average sales books, and there are many of them, frequently include some helpful tactics and advice.
Also Read: How to Start Writing a Book for Personal Branding
Top 5 Best 'How to Sell Books' of all Time
Sales Management by Brian Tracy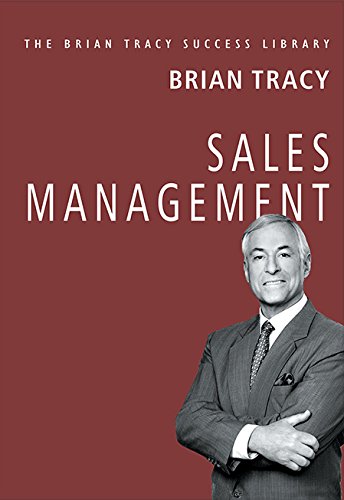 Brain Tracy is one of my favorite authors in this genre. THE BRIAN TRACY SUCCESS LIBRARY Powerful, practical and pocket-sized, THE BRIAN TRACY SUCCESS LIBRARY is a fourteen-volume series of portable, hardbound books that interweave nuggets of Tracy's trademark wisdom with engaging real-life examples and practical tools, tactics and strategies for learning and honing basic business skills. This is a powerful, handy, reference series for managers, professionals, employees—just about anyone who wants a quick, easy, reliable and effective overview of and insights into aspects critical to business. 'Sales Management' is the one book among those which is made for Sales Managers specially. This book explains how to manage your sales staff.
Book Title: Sales Management: The Brian Tracy Success Library
Author: Brian Tracy
Publisher: Manjul Publishing House (26 February 2018)
Amazon Link: https://www.amazon.in/dp/9387383067
The Little Red Book of Selling by Jeffrey Gitomer
Until now, there has been no definitive "little red book" for the millions of sales-people across the globe. In the tradition of Harvey Penick's Little Red Book, New York Times bestseller and the best selling sports book of all time. The Little Red Book of Selling by sales master Jeffrey Gitomer fills that void with an edgy, practical, and fun resource that salespeople will love-and sales managers will buy by the case. Salespeople hate to read. That's why The Little Red Book of Selling is short, sweet, and to the point. It's packed with answers that people are searching for in order to help them make sales for the moment-and for the rest of their lives. In The Little Red Book of Selling salespeople will learn why sales happen and a philosophy of success-long term, relationship driven, and referral oriented-nothing to do with manipulation or other seedy tactics. It has everything to do with understanding buying motives and taking ethical actions.
Book Title: The Little Red Book of Selling
Author: Jeffrey Gitomer
Publisher: Bard Press; 1st edition (25 September 2004)
Amazon Link: https://www.amazon.in/dp/1885167601/
The Greatest Salesman in The World by Og Mandino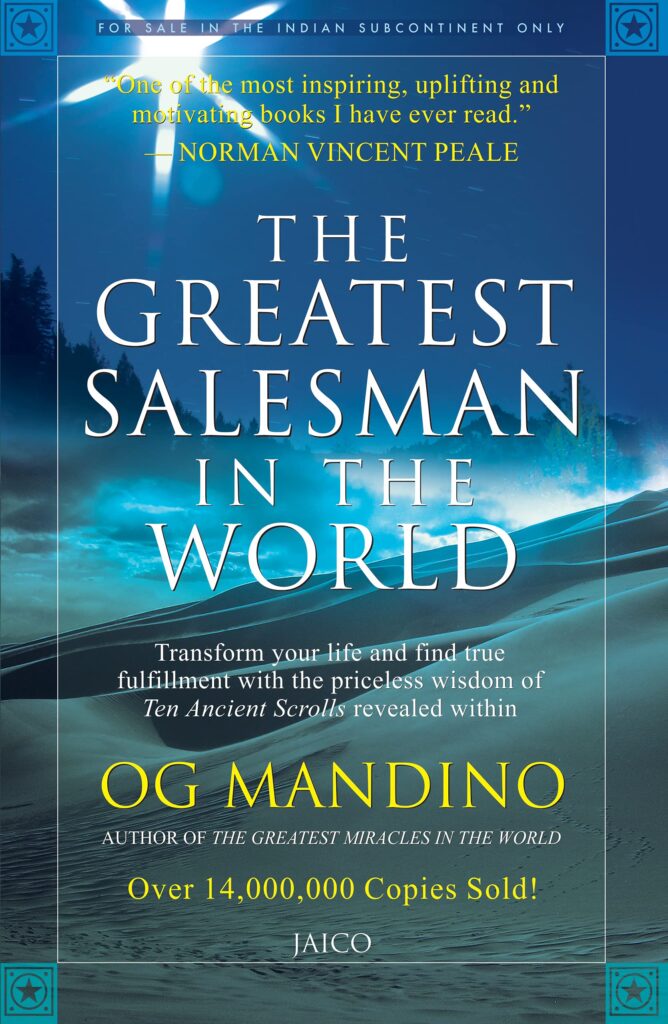 Each generation produces its "literature of power". This type of writing literally has the power to change the reader's life. In this tradition. In the Greatest Salesman in the World is destined to influence countless lives. Here is the legend of Hafid, a camel boy of two thousand years ago and his burning desire to improve his lowly position in life. To prove his potential ability, he is dispatched from Bethlehem by his master, the great caravan merchant, Pathros, to sell only one robe. He fails and instead, in a moment of pity, gives the robe to warm a newborn baby in a cave near the inn. Hafid returns to the caravan in shame but is accompanied by a bright star shining above his head. This phenomenon is interpreted by Pathros to be a sign from the gods and he gives Hafid ten ancient scrolls, which contain the wisdom necessary for the boy to achieve all his ambitions.
Book Title: The Greatest Salesman In The World
Author: Og Mandino
Publisher: Jaico Publishing House; First edition (25 August 2007)
Amazon Link: https://www.amazon.in/dp/8179926877
The Art & Science of Sales by Dr. Raj Kumar Sharma
People who aspire to advance in their careers in sales will find this book to be of great assistance. The author has provided extremely clear explanations of the sales process, the value of planning, and the first encounter in the sales process. This is one of the most crucial aspects of the sale; if it succeeds, your chances of closing the transaction increase by 50%. The remainder of the subject is likewise quite intriguing. One will believe this book will benefit professionals who want to advance in their own disciplines as well as sales professionals. A fantastic book for anyone looking to advance their sales careers. The explanations of each idea were excellent. The whole novel keeps you interested.
Book Title: The Art & Science of Sales
Author: Dr. Raj Kumar Sharma
Publisher: Evincepub Publishing (1 January 2020)
Amazon Link: https://www.amazon.in/dp/9390197236
You Can Sell by Shiv Khera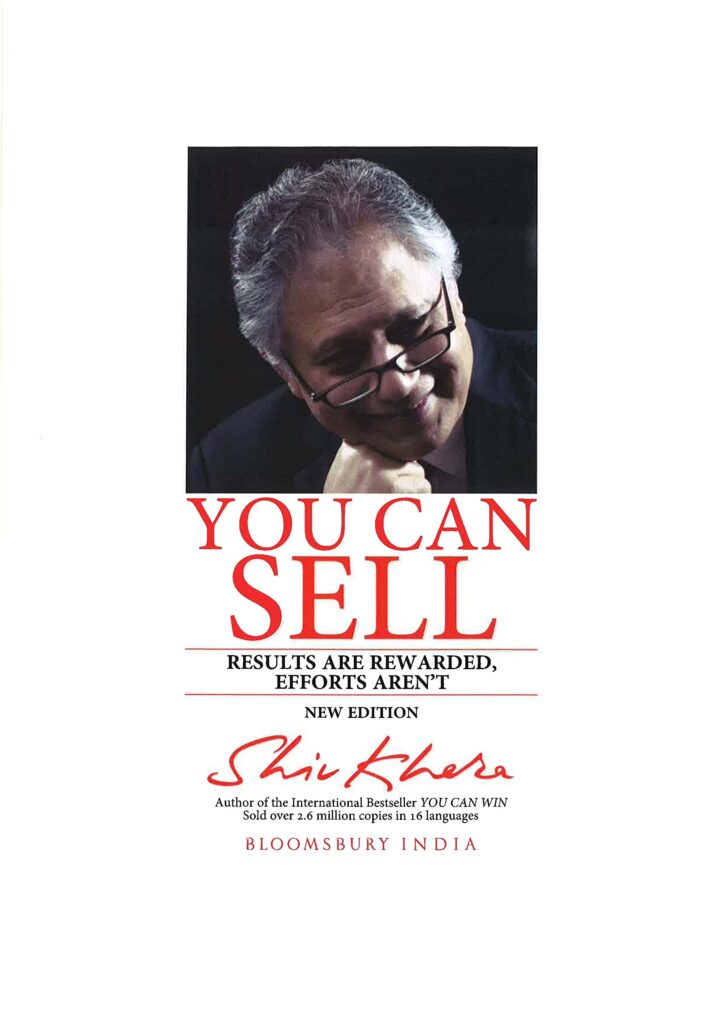 One of Top 5 Best Books on How to Sell. It is often said that in order to succeed, one needs to learn the 'tricks of the trade'. However, this is not true. Good professionals learn the trade. This is what You Can Sell teaches you how to do-to gain thorough knowledge of the trade, better understanding of the task at hand and sell your way to success. This book explains how to:· Gain success and avoid pitfalls· Meet and exceed goals· Establish credibility and grow· Gain a competitive edge· Learn the qualities of a winning professional.
Book Title: You Can Sell: : Results are Rewarded, Efforts Aren't
Author: Shiv Khera
Publisher: Bloomsbury India; 1st edition (1 January 2001)
Amazon Link: https://www.amazon.in/dp/9382951946/
I'm hoping these 'Top 5 Best Books on How to Sell' will assist you advance your sales profession. It's critical to continuously study new methods, techniques, and methodologies that can advance your sales craft if you want to develop as a sales professional. Each of these books has a distinctive strategy for selling that might enhance your abilities.
Related Article: Self Publishing: A Great choice of Up-and-Coming Authors